The average height for a woman in the United States is roughly 5 ft 4 in. The average height for women globally varies by country, but is typically in the 5 ft 2 in. to 5 ft 4 in. range. By contrast, the average height for a man in the United States is 5 ft 9.5 in.
Now, imagine, that you're a young woman who stands tall at 5 ft 10 in, or even 6 ft. You're so tall, you're taller than the average American man! Do you feel confident, because you're so beautifully unique and special, or do you slouch, shrink, and attempt to hide? Unfortunately, for many women, it is the latter.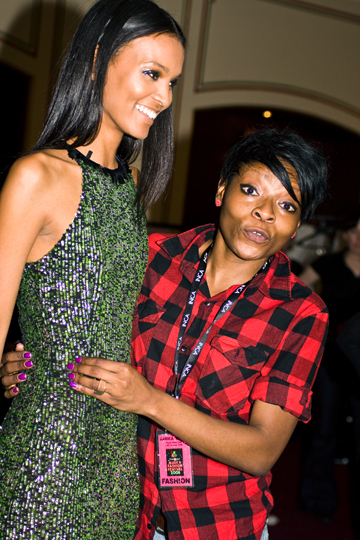 I can't count the number of times I've heard people tell a tall girl or young woman that she should "be a model." Because, of course, modeling is the only viable option for a woman who is much taller than the average. Because. if she's a model, all that height finally counts for something, and becomes acceptable. Because if she's a model, you automatically have a shift in your mind that changes her from "too tall" to "beautiful". As if slapping the "model" title on someone is what suddenly validates her beauty, her uniqueness, or her existence. As if her presence is now – magically, suddenly – desirable! Ha!
I can't express how deeply that irks me. It irks me to the core!
I know a few tall women, but 2 come to mind. They come to mind, because they are such beautiful and confident women that, when I'm around them, I suddenly want to be 6 feet tall. One of them walks into a room and literally commands it. She walks in with such confidence and poise, and speaks with such self-assuredness, that you want to be that tall. The other carries a presence with her that is regal, elegant, and such magic; it's breathtaking! [Hi, Gi & April!!]
The amazing thing about both is that they credit their mothers with teaching them to own the beauty in their height. The former has stated that her mother was so insistent about posture and carrying oneself with self-confidence, that she would have her walk with a book on her head. Talk about practice for walking with a crown on your head! How beautiful is that?! Really!
So, the next time you look at a young woman who is taller than the average, and immediately blurt out, "You should be a model", may be you should take a minute to reconsider. Because, really, she doesn't need to be a model to have her beauty validated. Because she can be a teacher, a doctor, a surgeon, a writer, an author, a scientist … and move through life just the way she is. Because her height is just one of the amazing things that makes her the most beautiful girl in the world.
If you are a tall girl hoping to "be a model" one day because it's the only chance you think you have to finally hear someone say that your height is perfect just the way it is, know that it already is. If no one's said it, I am telling you.
You are breathtakingly beautiful just the way you are. God made you so tall, because He wanted you close enough to Him to touch. He made you to pierce the clouds, because you are a STAR!
{Images via BellaNaija; Ladun Liadi; Gistus; FashionBombDaily}