A middle-aged dark-skinned woman, termed "less classically beautiful" by a New York Times writer (and battling alopecia, which is a condition that causes hair loss) carefully and meticulously takes off her wig and every trace of makeup on her face, while the entire (show-) watching world looks on. If that's not courage and authenticity, I don't know what is. From joy to deep down respect, I felt so many emotions watching Viola Davis in that amazing scene. In that single moment, she showed the world (and all of us) that we don't need the validation of others to accept ourselves, or see ourselves as beautiful; that we shouldn't care about what the world thinks about our beauty, because what we think (and, at least for me, what GOD thinks) are the only things that really count.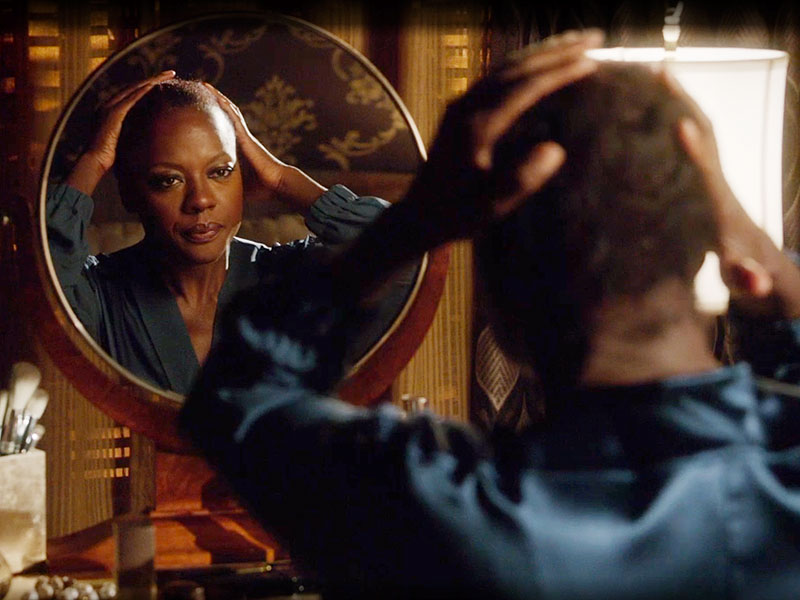 If you're like me and much of America, you are hooked on the Shonda Rhimes-executive produced, Peter Norwalk-created ABC show, How to Get Away with Murder (HTGAWM). Watching the fast-paced, time-jumping show requires rapt attention, and watching Viola Davis in anything is always a dream. In Thursday's episode, right before she speaks "the 9 words", we watch her sit in front of her vanity and take. every. trace, of. makeup. off! Wow!
Even more amazing is that the show's creator states that Viola came up with the idea of the scene herself!
For many everyday women, makeup is like armor. It's something they put on before they go out to face the world, anywhere. For some, it enhances what they have; but for others, it really is a mask they put on everyday. Now, imagine being a celebrity, who is scrutinized millions of times more than the average person. Imagine having just been called "older" and "less classically beautiful" by New York Times writer, Alessandra Stanley. Then, imagine sitting and taking off ALL your makeup as the entire world looks on, knowing that as you sit vulnerable in your natural beauty, people are just waiting at the gates to point out all your flaws. Imagine that for a second!
What Viola Davis showed for all women last Thursday night cannot be put in words. Though I am not much of makeup wearer at all (I usually just wear lipstick, and the occasional eyeliner), I can understand the intense courage that must have taken. For women who are constantly told by media that we just need a little more this or a little less that to look perfect, for women who can't imagine running their pictures through a filter, for women who feel less than flawless on a regular basis, this is the sweetest most amazing validation and example. Go out and face the world just as you are. No one else's validation is necessary!
Vulture shares Viola Davis' guide to happiness in 14 steps. Here are few, but go ahead and read the full article from Vulture.
Know what really matters.
Speak your mind.
Go for what you want.
Seek advice.
Learn from your past.
Try even when the odds are against you.
[Go ahead and read the rest here.]